Over £400,000 of toiletries and hygiene products delivered 
to Poland, Moldova, Slovakia, Ukraine and Romania.
Since Russia invaded Ukraine in February 2022 our work supporting the people of Ukraine has allowed us to organise donations of essential hygiene products worth over £400,000 to those who urgently need our help, and deliver them directly to Poland, Moldova, Slovakia, Ukraine and Romania. 
This has been a community effort, supported by product and financial donations from individuals and brands. Through the kindness of others we managed to raise just over £4000 towards our storage, transport and logistical costs, and we've delivered over £400,000 worth of useful supplies to the people who need them most.
We still need bulk donations of essential products such as sanitary products, soap, toothpaste, toothbrushes, shampoo and conditioner, so if you know a company that may be able to help, let them know about us. As well as product donations, we really need financial support to help us afford the transportation of these items. Even a small donation can make all the difference, so if you can, please make a donation via PayPal.
It's been amazing to see how the community has come together to find ways to make a difference, the team at Marie Claire came onboard in support of our appeal, helping to gather donations for refugees in Poland (check out the article here) and the community spirit has been especially apparent on social media, where friends and followers have pitched together to donate products and raise funds through product sales and revenue shares. Here are a few examples: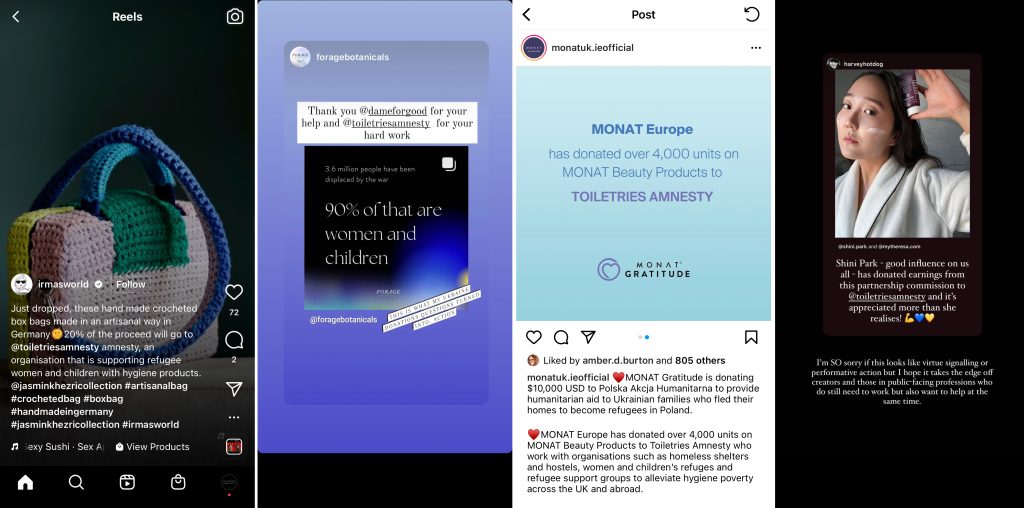 From left to right: Irmas World is donating 20% of a bag sale / Forage Botanticals teamed up with Dame to donate sanitary products / MONAT donated shampoo and soaps / Shini Park from Cube Collective donated part of her IG Collaboration fee. 
We're pleased to have facilitated the delivery of products to multiple charitable organisations across Europe, including: Where Hope Lives – Ukraine, Polska Akcja Humanitarna – Poland, Ajuta un Om – Moldova, Assoc – Romania, Pod Skrzydlem Aniola – Poland, and Lviv Children's Hospital – Ukraine.
We wouldn't have been able to do it without the support of: L'Occitane, Shini Park and Cube Collective, Urban Apothecary London, Forage Botanicals, Cloud Nine, Chalk PR, Sanctuary Spa, INEOS, SYR, Facegym, Dr Hauschka, MONAT, Nudea, Dowal Walker, Umberto Giannini, The Hut Group, Faith in Nature,  and over 100 individuals who donated to support our appeal. 
Watch this short video to see some of the work we've been doing:
 We've been supporting refugee centres across the UK and around the world for over eight years now, but the need for donations is growing at an incredible rate as the events in Ukraine continue. We are acting now to get large donations of toiletries and hygiene essentials to the people on the ground in Ukraine, as well as those seeking refuge across Europe, but we still need your help.
Donations can be made to: https://paypal.me/ToiletriesAmnesty
Getting donations of toiletries and hygiene essentials makes a huge difference to people who have been displaced, a situation that makes access to toiletries and essential hygiene products incredibly difficult.
Your kindness can help thousands of people in dire need. There's something all of us can do, but if we work together, we can make an even bigger difference!